Medical Guidance for Menopause
by Dr. Dedeshya Holowenko
Today, many women feel abandoned by their health practitioners when it comes to symptoms which present at the onset of the transition to menopause. They can occur as early as mid-30's, and can persist for decades. Symptoms are often evaluated in isolation, leaving women feeling confused and misunderstood. lack of medical guidance and misinformation from the media often leaves them feeling fearful, embarrassed, guilty, and helpless. Confusion arises when a health care practitioner states risks of treatments, and another assumes them safe. Who is a woman to believe??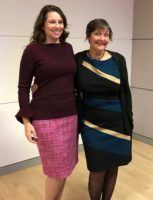 Dr. Dedeshya Holowenko is a family doctor with a specialized training in women's health, with over 17 years of experience. She also has a full scope family practice in North Van, and has recently opened Medify, in Burnaby. Medify specializes in women's and men's health, with a focus on menopause (and manopause), sexual health, physical and aesthetic rejuvenation. Dr. Nathalie Gamache is a gynecologist with a fellowship in menopause, and over 16 years experience. She is an educator and an international speaker. These two women have joined forces to educate a new generation of women on the history of menopause research, media hysteria, and the resulting abandonment of women for the last two decades. They recently created FemmeBC, the Foundation for the Empowerment of women in Menopause and Medical Education in BC.
Join us! 
Please come join us on Tuesday, March 10, 2020 from 6:30 – 8:30 pm at the Moving Spirit Studio (#205-38 Fell Ave, North Vancouver, BC) for an interactive forum on menopause.