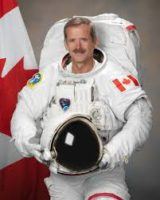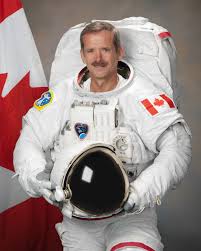 There. It's out. I've said it out loud. I have a big old crush on retired Canadian astronaut Chris Hadfield.  And my husband is okay with it. Of course, I've never actually MET the man, and I'm sure he has a dark side the public doesn't see, just like the rest of us; but he's just so darned interesting! It's a "brain-crush" kind of thing.
A former RCAF fighter pilot, Commander Chris Hadfield flew two space shuttle missions and was the first Canadian to walk in space.  As commander of the International Space Station, he showed us all a slice of life in space with pictures and videos he shared with the world via social media. You probably saw his version of David Bowie's "Space Oddity" – on acoustic guitar, in space. (If you haven't seen it, check it out here: Chris Hadfield's Space Oddity)
As cool as it was to see his performance of David Bowie's classic song, what fascinates me about him  is how he speaks and writes about his perspectives on life, and how he sees the world. This man has had the courage and tenacity to do things that few people on the planet will ever achieve. And for all the rigorous scientific discipline and exactitude that his profession required, he seems to possess a spirit as expansive as outer space. And that's what I find really engaging.
Over the holidays, I had a chance to hear Cmdr. Hadfield answer a version of the Proust Questionnaire on CBC Radio's "The Next Chapter."  His answers were thoughtful.  They sparked in me all manner of curiosity and introspection, and caused me to reflect on how I relate to my work and my world.  After a what felt like a tough year of growth and change which had left me feeling tired and depleted – I move into 2014 feeling inspired.
So, you may ask, what was inspiring about what I heard?  I'll tell you, although you'll probably find some inspiration of your own in these words…(These are abbreviated answers hurriedly transcribed from a radio interview, and likely not perfectly transcribed; so for the real deal, check out the interview here – it's toward the end of the show.)
1. Cmdr. Hadfield, who are your role models?Chris Hadfield (CH): "John Glenn, David Johnson, Thomas Jefferson & Marcus Aurelius. People who have a vision beyond most people, but who have still managed to turn it into a practical result." 
What I learned:  This was, for me, a reminder that to achieve great things, one must travel the unbeaten path. Educate yourself, dream HUGE and move heaven and earth to achieve your goals.
2. What is your favourite journey?(CH) "Journey" has become a holy grail of a word that leaves a bad taste in my mouth, as if the fact that you say that words puts a glowing aura around whatever you're doing. My favourite journey is getting off my boat and walking across the dock to my cottage." 
What I learned: I loved these words from a man who has journeyed farther than most! I work in a world where the word "journey" is overused, over-romanticized and creates in my mind the picture of something "precious." We are all precious. We all have stuff to offer. Let's lose the "glowing aura" and just get on with things.  I love a little mystery, a little magic – but not when the stories get in the way of getting things done. Open hearts, open minds, respect, commitment – and let's get to work!
3. What is your idea of perfect happiness?(CH)"Having the wherewithal to look around inside the moment and recognize what's going on when you are laughing and loving with friends. It's as perfect as it gets for me. "
What I learned: Yeah. That.
4. What is Your Greatest Achievement?(CH): "When I see reflected back in someone else's eyes a new thought, or a new capability, or an inspiration within them. To me that is the only real measure of whether it was a great achievement or not. "
What I learned: I have spent most of my life working with people to help them move better, to inhabit their bodies in a way that feels good and allows them to pursue the activities that mean most to them. In that context, the latest, trendiest exercises don't mean much until you see that light of understanding, that spark of a new way of being, the connection to something bigger, or something different than they have known before. And when you see that, then all the work you've done to get there makes sense. Until then, it's just "exercise."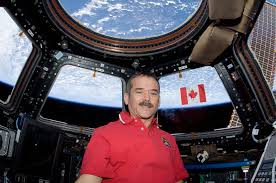 Chris Hadfield's autobiography:  "An Astronaut's Guide to Life On Earth: What Going to Space Taught Me About Ingenuity, Determination, and Being Prepared for Anything"  is a wonderful tale of facing the impossible, and finding a way to get it done. He's humble, optimistic and funny.  If you're looking for a little inspiration, give it a read! What inspires and motivates you? How do you get passed the "impossibles" in your life? If you feel like sharing, leave a comment in the space below. I'd love to hear how you'd answer some of these questions.
And thank you, Chris Hadfield, for sending me into 2014 with my heart and brain on fire with renewed energy and creativity! A little rest and some thoughtful words, and I'm ready to fight whatever dragons come my way.