When you think about twisting your spine, what do you picture in your mind's eye? Do visualize an extreme twist, like the one in the picture on the right? Or maybe you imagine sitting in the driver's seat of your car, twisting around to reach something in the back seat? Did you realize that every time you take a step, your body moves into spinal rotation? Every time you turn your head, you are rotating your spine. When you reach for something with your arm & hand, you are twisting. The very nature of movement in the upright human body depends on our ability to rotate the spine.  
In addition to facilitating movement overall, rotation helps the health of your structure and metabolism too. Your vertebral discs are not vascularized, meaning they don't receive nutrients via the bloodstream in the same way that most of the rest of the body does. Instead, those discs depend on the compression and decompression of the spine as you rotate to literally squeeze fluid and nutrients into and out of the discs; a little like a sponge.  When rotation is compromised – so is the health of your discs.  To maintain great visceral function, your organs appreciate a good squeeze as well. Beyond your ability to shoulder check in your car with confidence, which can be a life-saving skill in and of itself, having the ability to rotate your spine well will have an impact on the ease and fluidity of your movement, and on your health overall. So, juice up your movement and rotate your spine!
Do you take your ability to rotate your spine for granted? Twisting tends to be one of those things that most people "just do," like walking. You don't really think about HOW you do it, until you can't do it anymore. Your challenge for today will be to explore, with conscious awareness,  the rotation of your own spine.
TRY THIS:
Sit on a chair, with your feet flat, about hip width apart. Place a small ball, light bolster or foam roller between your knees – not so much to squeeze it, as just to keep it from dropping to the floor. Check that your sitz bones feel wide underneath you, hips relaxed, shoulders hanging easily down the back, spine long. Imagine the crown of the head reaching easily to the sky. Cross your hands across your chest, or simply clasp your hands in front of you,  just below your breast bone.
Twist your spine  and head to one side, moving from the bottom to the top. What do you notice? Do your shoulders lead the twist? Are your shoulders level? Look at your knees – has one moved forward and the other backward? Do your ribs feel tight as you twist? Is your waist shorter on one side than the other? Is there a point at which you feel "sticky" or "stuck?"  Does your butt get all grippy, or your hips tight? Is your head able to follow through on the twist at the top?
Twist to the other side. What do you notice? Does anything feel different than on the first side? If so – can you determine what the difference is? Try it a few times, really tuning in to the sensation in your spine, your rib rings, your neck, your hips – even in your legs and feet. Pay attention to what feels easy, and what feels like "work."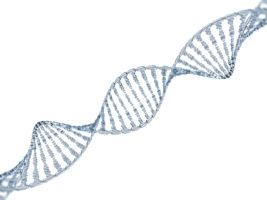 Now try the twist again, with a slightly different focus. As you twist, imagine your vertebrae being supported within a double helix. With legs, hips and butt relaxed, visualize this double helix spiraling upwards, taking the spine into an easy, vertical spiral. Imagine space between your rib rings, neck long. Instead of "screwing downward" as you twist, float the vertebrae up within that supportive double helix. Feel that double helix wrapping the spine up in 3-D – supporting it in its spiral motion from the front, back and sides.
The spine doesn't get it's range of motion from one big action at one big joint. Instead, it relies on each vertebral joint moving a little bit. If every joint does it's part, then you get a long, fluid motion which allows freedom in related structures as you move.If there are joints that are stuck or compressed, your movement will be compromised. When that happens, then your system will create elaborate compensations to get you the range of motion you may be looking for.
Another picture that may help to ensure clear segmental movement in the vertebrae is to to see the movement of each vertebrae a little like flipping a switch in a fuse box. One breaker at a time,  flip each switch. Visualize one vertebrae at a time moving into the twist from bottom to top. If there are areas that are sticky or compressed, visualize space and separation.  As you play with these pictures, and connect them to your own sensation, you'll find that it's possible to be clearer and clearer in your movement. You may notice that without much more effort, you begin to twist further and further around. (Some of my clients laughingly call this the exorcist factor.)
In the same way that you are imagining the spine in 3-D, imagine the rib rings in 3-D too. (To understand rib "rings," see last week's post: Un-Cage Your Spine for Better Mobility).  Each pair of ribs is attached to 2 vertebrae. When the ribs are gripped or stiff, then spinal rotation becomes more challenging. You may then be tempted to "muscle" your twist from the outside, with superficial muscles in your back, shoulders, ribs and hips working harder than they should. Find the length and space you have available in your twist first, and then you can add as much load or muscle effort as your inner support can sustain without collapsing.
Another good test of the quality of your twist is your ability to breathe. If you can breathe easily and deeply in your twist, you're likely doing things pretty well. If however, you feel as though your oxygen has been cut off, you may need to play with the quality of your twist.
There are many important elements to a twist. If you try some of these things in your day to day and find that they're not helping a whit, you may want to seek professional help. Maybe you're not in pain. Maybe you haven't noticed a dramatic change in your quality of life yet. But if your spinal rotation is compromised, you can be guaranteed that somewhere along the line, you're going to feel it. Play with it now – before stuff hurts! Open your body up to the possibilities and I can guarantee you'll feel better for it.  You may even find that it makes things easier for walking and running, or for reaching  with your arms and extending the upper body. Or maybe you'll be able to turn your head far enough to the left that you can actually see vehicles behind you when you shoulder check while driving.
Bring the feeling of your twisting spine & thoracic rings into your awareness; when you're sitting, standing, playing, running – whatever movements you do in life.  Wherever you can, promote length, space and ease.  In the coming weeks, we'll play with some more strategies for supporting great spinal rotation in various movements. For now, start simple, play lots and stay tuned!