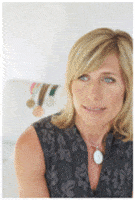 Play is an important part of our development as children. But sometimes we leave it there. Do you know that it's just as important to play when we're all grown up? For mental health, physical mobility and agility, for social support and, heck – just for fun! Unstructured play can be a great way to reset your mind and emotions, connect with others and create new connections to your own physicality.
As you plan your "workouts" to support health and wellness, don't forget to create a little space for play. To remind you just how important it is, I'd like you to hear the words of Canadian champion rower Silken Laumann. An Olympic-medal-winning athlete, an author and motivational speaker, Silken joined me in 2010 for an interview on my internet radio show, "Alive! Bodies In Motion." In our conversation, she talks to us about her experiences recovering from a traumatic injury just 10 weeks before an appearance at the Olympics – and how she went on to win bronze medal. She tells us about her belief in community, and how important it is for us to get our kids out in our neighbourhoods to play.
As an athlete, as a woman, and as a person who motivates others to find the very best in themselves; Silken Laumann is, to me, an inspiration. I hope she inspires you too!