Events & Education 
Your Pelvis & You: Together Forever!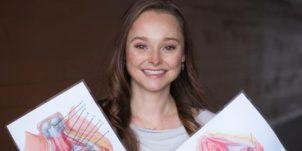 Tuesday, April 16th, 2019
7:00 – 8:30 PM
$30.00
A woman and her pelvis are in relationship for LIFE! Taking care of this relationship will only reap rewards across our lifespans. This workshop is for you if you are a woman who might like a better relationship with her pelvic systems.
With over 20 years experience as a physiotherapist Gillian McCormick has helped hundreds of women of all ages improve their sometimes challenging relationships with their pelvises, including the treatment of urinary and fecal incontinence, constipation, painful sex, pelvic pain, and pelvic organ prolapse.
During the workshop she will introduce pelvic geography, function and upkeep for a lifetime of pelvic health (the true indicator of a good relationship).
Topics such as how and when to do pelvic floor exercises, the best way to poo, what your bladder is really saying will be covered. Come join us in North Vancouver for information and useful try-this-at-home tips on optimizing your pelvic health.
​
Hypopressives (Low Pressure Fitness) Level 2 Certification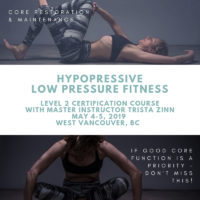 May 4th-5th, 2019
Saturday 9:00 to 5:30
Sunday 9:00 to 5:00
We're excited to welcome IIHPT Certified Master International Instructor, Trista Zinn back to Vancouver this spring! On May 4-5, Trista will be teaching a Hypopressives Level 2 Certification Course at the West Vancouver Dance Conservatory. This Level 2 course will provide students with a more in depth theoretical understanding of the HYPOPRESSIVE technique. The advanced and dynamic series HYPOPRESSIVE LPF exercises program will be practiced at length to ensure you are comfortable with a new program and progressions you can introduce to your clients as they progress from static poses into a dynamic series. If you've completed your Level 1 and you're ready for more, join us for the next level in your training!
The REAL Sex Ed
Life Skills for preventing Pregnancy, STIs and Incontinence
​
Tuesday, May 7th, 2019
7:00 – 9:00 PM
$18.00
This workshop is for people with a vagina, age 16-21 years old, that aspire to be sexual women in charge of their bodies.
You took Sexual Health Education in elementary school, right? Does that feel like a looooonng time ago? Do you have some things you might like a refresher on? Does it have a different meaning now that you are more mature?
As you grow older the context of this information, grounded in biology, anatomy, physiology and culture, changes a lot. Here is a forum for learning the finer details of how your bodies work, having discussions about healthy sexual selves and gaining real world skills that will keep you safe and savvy for a lifetime of optimal pelvic health.
Topics covered in just under 2 hours include: pelvic geography, healthy bladder habits, the proper way to poo, how not to leak pee EVER, how to use the muscles in your pelvic floor, how to be in the know about sex including relevant demonstrations and the care and keeping of vaginas. Immediately applicable try-this-at-home tips will be given. Fun will be had. Time at the end for questions or just hanging out 'cuz we are awesome like that.
TESTIMONIALS